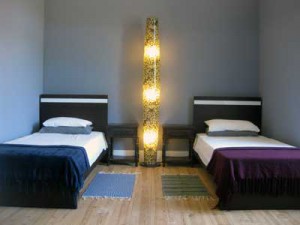 Brejo Fundeiro is a hundred year old manor house which has been lovingly restored with many of the original features preserved.
Bedroom 1: 2 single beds
Bedroom 2: 2 single beds with Juliet balcony in the en-suite
Bedroom 3: 2 single beds with shared Juliet balcony
Bedroom 4: 3 single beds with Juliet balcony
Bedroom 5: 3 single beds in 2 adjoined rooms with Juliet balcony
Bedroom 6: 1 double bed with separate office
Bedroom 7: 3 single beds on the ground floor
There are seven boutique furnished (twin and triple) bedrooms. All bedrooms apart from the ground floor have en-suite bathrooms, with shower, washbasin and toilet. The studio apartment for the tutor (bedroom six) consists of a double bedroom, office and en-suite with bath, washbasin and toilet. The downstairs bathroom can be used by the entire group during the daytime. Each room is individually styled with different colour schemes and have features such as wood paneled ceilings, wooden shutters, chandeliers and wood floors on the 1st floor while tiled on the ground floor bedroom and bathroom. Single beds can be joined to create a king size bed for couples.
Originally the wine cellar; the kitchen and dining room also have high ceilings and exposed stone walls.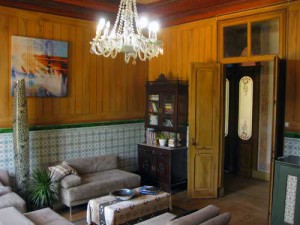 Breakfast can be enjoyed either in the dining room or courtyard.
Step outside to discover the courtyard and mature lime trees which provide welcome shade on hot, sunny days.
The lounge was once the formal dining room and boasts a Juliet balcony, tiled and painted wood panelled walls and a range of comfortable seating for you to relax on. A small library with a selection of English and German books and TV is available for guests' use.
The patio area provides a lovely outside space with comfortable armchairs and views over the herb garden, ruins and valley and provides a great vantage point to either watch the sun go down or stare at bright stars.