If you rent a car, there are plenty of spectacular sights less than 1.5 hours drive one way to be discovered on day trips. Here are some of our favourites: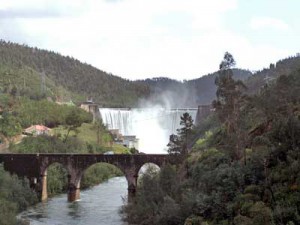 CASTELO DO BODE is an artificial lake on the River Zézere, which was created in the 1950's to provide clean water for Lisbon and stretches over 60kms from Tomar to Ferreira do Zêzere, Vila de Rei and Cernache do Bonjardim. It has a surface area of some 50 km and is ideal for swimming, sunbathing, fishing, motor and sailing boats, skiing, windsurfing, jet skiing and diving. Nature around the lake is beautiful and packed with stunning views. There are two walls near Brejo Fundeiro Retreat, Barragem da Bouca is 15 mins and Castelo do Bode is 40 mins away, which can be visited while driving through scenic rural countryside.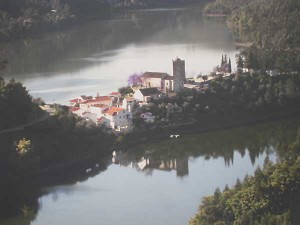 DORNES is a small, beautiful historic village and sits on an enchanted peninsula. The stone cottages are built on hilly cobbled streets. Overlooking the village is an unusual 5 sided tower and church. It was built by the Knights Templar as a watchtower and defensive bastion for the region during the Christian re-conquest. In the 16th century, a more peaceful period, it was adapted into a bell tower for the neighbouring mother church.
From here you have spectacular views of the river, which curls around 3 sides of the peninsula and the surrounding green hills. Dornes is a 5 minute drive from our centre.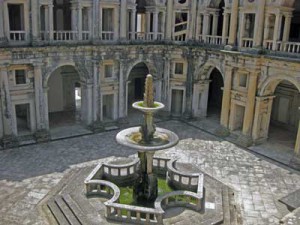 TOMAR is a charming and historically outstanding town on the banks of the Nabão River. It is dominated by a 12th-century Templar castle containing one of the country's most significant and impressive monuments – the Convento do Cristo, which is a UNESCO World Heritage Site. In the 12th century, the Knights Templar established the Convento as their headquarters and today it is still the largest and best preserved European Templar settlement. Inside the walls, there is a combination of a fortified citadel and monastery. Within the Convento, you can see the famous 'Manueline Window', courtyards, water fountain, amazing stone spiral staircases, several cloisters, the end of an aqueduct and more.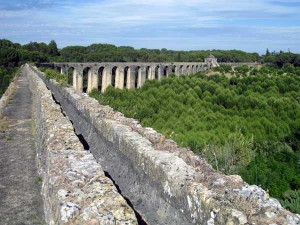 In Tomar the pedestrianised main shopping street leads to the Gothic Church of São João Baptista, on Praça da República. This is the town's elegant main square and is surrounded by 17th-century buildings.
Just 2 minutes outside Tomar, you can find the Aqueduct of Pegões, built in the 16th century; the structure has 180 arches and is 30 meters (100 feet) high. If you're not scared of heights, you can walk along on top of the aqueduct.
Tomar is 34 km/21 miles away and takes around 35 minutes to drive there.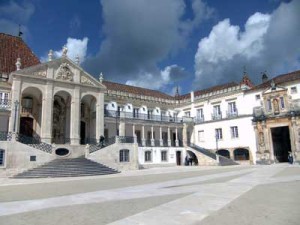 COIMBRA is one of Portugal's oldest cities and home to one of the world's first universities. It was the capital of the country from 1139 to 1256 and its university was founded in 1290. Today this impressive university is still one of the world's most illustrious and the city's biggest attraction. Surrounding it in the old town are fine old churches and narrow streets standing on a hill overlooking the Mondego River. Down by the river is the commercial heart of the city, with lively cafés, pastry shops, restaurants, boutiques, among others. Coimbra is 71km/44 miles away and it takes around 1 hour to drive there.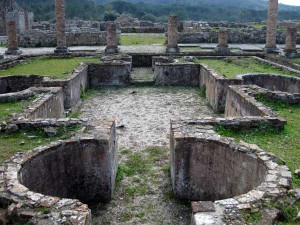 CONIMBRIGA is one of Europe's great Roman archaeological finds and one of the best preserved on the Iberian Peninsula. It was originally an Iron Age Celtic settlement but was occupied by the Romans in the 2nd Century A.D, who turned it into a prosperous city. Besides ruins of bath houses, amphitheatre, forum, city walls and other houses, there are wonderful floor mosaics. 16Km/10 miles outside Coimbra and about 1 hour's drive from Brejo Fundeiro.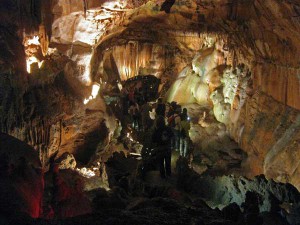 GRUTAS DE MIRA DE AIRE CAVES – Mira de Aire is a small town and has the largest caves in Portugal discovered in 1947. There are a series of spectacular caves of striking natural architecture with the 'Black River' meandering through the caves down into the 'Great Lake' 110 metres below ground level. There are lifts for the return to the surface. 1.5 hour's drive to cover the 85km/52 miles one way.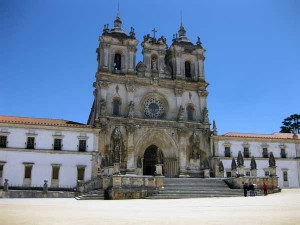 ALCOBACA is known for its principal attraction, the Abbey of Santa Maria. Founded in 1153 to commemorate a victory against the Moors, it was completed in 1223. It is now Portugal's largest church, and one of its outstanding architectural monuments. It was declared a World Heritage Site by UNESCO and its excellent state of preservation makes it the finest example of Cistercian architecture in Europe. Inside the church are the elaborate stone carved tombs of Dom Pedro and Donna Ines, who have a tragic story similar to Romeo and Juliet, but more gruesome. 95km/59 miles to drive which will take about 1 hour to drive there.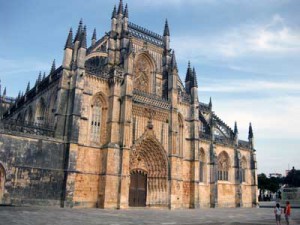 BATALHA monastery was built in the amazing Gothic-Manueline style. Mosteiro de Santa Maria da Vitória, is arguably the supreme achievement of Portuguese architecture and has UNESCO World Heritage status. It was built to commemorate the 1385 battle which sealed Portugal's independence. Located 77km/47 miles away, it will take around 1 hour to drive there.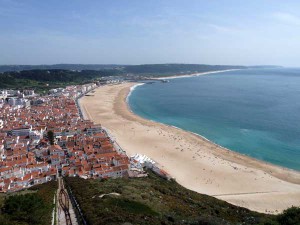 NAZERE is a lovely seaside town with a fantastic atmosphere. It's labyrinth of cobbled lanes lead down to a wide, white sandy beach. There is a fishing port at one end of the beach with a monorail up the cliffs at the other end and a great mix of shops and restaurants in between. The cliffs on the north side are 110 metres (1000 feet) above the beach and offer amazing panoramic views. It takes about 1hour 30 minutes to drive the 108km/67 miles to Nazaré. A stop over at Alcobaça and/or Batalha makes the journey worthwhile.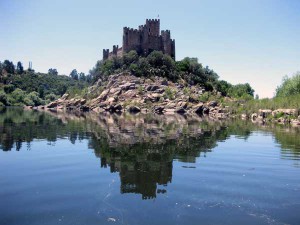 ALMOURAL CASTLE is a medieval castle located on a small island in the middle of the Tagus River and was part of the defensive line controlled by the Knights Templar. Although it is unclear when the actual castle was established, it is believed that it was constructed on the site of a primitive pre-Roman fortification that was later conquered by the Romans during the 1st century B.C. Stop over in Constância for a coffee by the river. It will take about 1 hour to drive the 65 km/40 miles.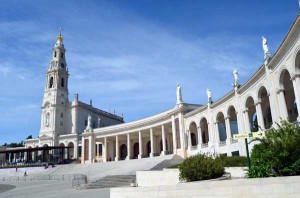 FATIMA is one of the most important Catholic shrines in the world dedicated to the Virgin Mary. Fatima's fame is due to the apparitions of Our Lady of the Rosary that appeared to three shepherd children on the 13th day of each month, for 6 months in 1917. The last apparition occurred on 13 October 1917, and was witnessed by 70,000 pilgrims. The site now attracts as many as 6 million pilgrims every year. Plan for around 1 hour to drive the 74km/46 miles to get there.