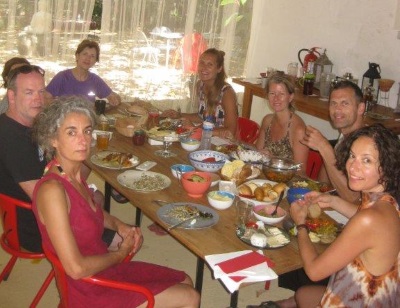 The 'made from scratch' vegetarian food we prepare is tasty and nutritious and based on fresh, seasonal fruit and vegetables. The vegetables, fruits and herbs are either grown in our own organic garden or supplied by local greengrocers.
Example of our food we prepare each day:
Breakfasts:
Fresh fruit salad served with muesli (alternated with soaked raw oats on 1 day), home made yoghurt or Kefir.
Fresh home-baked sourdough bread (alternated with fresh breadrolls/pancakes) served with organic home made jams.
A variety of herbal teas.
Lunches:
Warm dish served with a salad, for example Greek spinach pie with a fresh raw salad or Gazpacho soup with a fresh raw salad.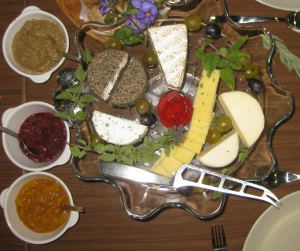 Mezze with a Portuguese twist; variety of small dishes, including different pickles from our garden, cheeses from the local farmers
Dinners:
Caponata aubergine stew, tomatoes stuffed with rice, tomato ginger chilly salad, chocolate mousse.
Chickpea ginger soup starter, bacalhau abras (fish free option is possible), salad with raw sprouts
Our afternoon cake is of course freshly made, served with tea infusions, many of which we grew ourselves. Please consider and advise us if fish and alcohol is allowed on your retreat. We also need to know long in advance of any food allergies to ensure we can source any additional products like gluten free flour etc in rural Portugal or order them online.