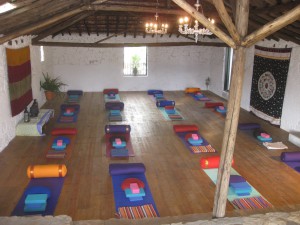 Are you looking for a bespoke venue to host your next yoga retreat? The Villa's old barn with exposed beams has been transformed into a yoga shala which is accessible from the courtyard. Two large glass sliding doors frame views over the pool, Eucalyptus forest and grazing sheep in the valley beyond.
The shala has a total area of around 95 square meters (1020 square feet), which is divided into two parts:
75 square meters (805 square feet) has a floating wooden floor and is perfect for students to practice and perform yoga exercises.
The smaller area of around 20 square meters (215 square feet) has a stone floor elevated above the main floor at a height of around 30 cm (12 inches). Due to its elevated position this would be an ideal place for the tutor.
Measurements of the yoga shala:
The main floor area is 10.30 x 7.30 m (33.8 x 24 ft) and the smaller, elevated area is 5.50 x 3.60 m (18 x 11.8 ft).
The shala is equipped with mats, blocks and blankets.