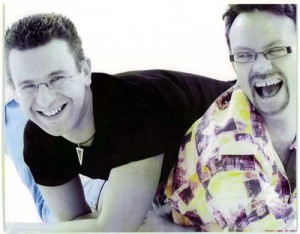 We are Keith and Torsten, the proud caretakers of the beautiful manor house Brejo Fundeiro in the stunning setting of rural Central Portugal. It was a long journey to get here, but we fell in love with the villa immediately and now look forward to sharing it with you.
Keith was born in Namibia but grew up in South Africa. After working in Cape Town as a chef in restaurants and hotels for a few years he moved to Pretoria and became an accountant. In 1997 he moved to Europe and spent 6 months in Germany with Torsten, then settled in the UK for 12 years.
Torsten grew up in Germany where he studied medicine. After finishing his studies, he worked in several locations in Germany and abroad, including Vienna and Johannesburg where he and Keith met. Returning to Germany he completed his PhD in clinical research then joined Keith in the UK. He worked for several years in the NHS before joining a pharmaceutical company developing new medications.
After 12 years in Manchester we wanted something different from life and dreamt of a simpler lifestyle in a warm, sunny climate. We both enjoy hosting dinner parties and cooking food, love spending quality time with friends and colleagues while enjoying good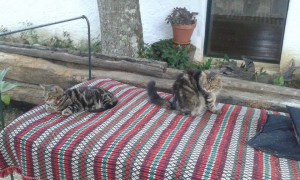 home-made food. Due to back problems we joined a Pilates/Yoga group in Manchester. Not only did we benefit from these
sessions in terms of improved health, but we also enjoyed the company of the group and saw an overall improvement in our well-being. Drawing upon these experiences our dream materialised into the Brejo Fundeiro Retreat.
We would be delighted to be your hosts for a fantastic retreat holiday with wellness-enhancing yoga in boutique style but homely accommodation. Our mission is to experience life and serve by providing this retreat space where tutors can guide others to grow and evolve. Our aim is to provide quality and a taste of luxury, but provide value for money. We look forward to making your yoga retreat an experience from which you will return home feeling refreshed and revitalised.
The retreat centre also comes with cats who are called Ziggi and Mr. Bowjingles, while the dogs respond to Jo-Jo and Fientje.